Are you looking for a FUN, OUTDOOR, & EXHILARATING opportunity designed just for FUN, FRIENDLY, & ENERGETIC crew members?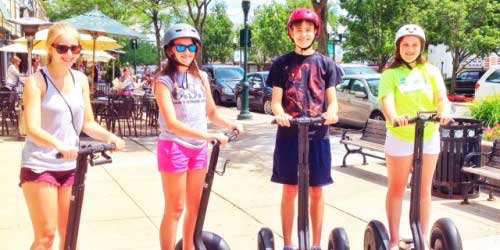 Great Lakes Segway is hiring lively and energetic individuals to join our team as tour guides in Walled Lake! As a tour guide you will:
Instruct and train our tour customers on proper & safe use of stand-up Segways.
Lead tour groups on a 1 hour ride around Walled Lake!
Be energetic, outgoing, fun, and eager to help our tour riders to give them the most enjoyable experience possible!
You will be leading and communicating with groups of riders so we are looking for the most outgoing and friendly people we possibly can!
Creating a FUN & SAFE experience for our tour groups is EVERYTHING! 
We have a few other requirements for this position:
All tours take place starting from our store location in Walled Lake, Michigan. Our tours are 7 days a week in the summer. Tour guides can create their own hours and lead tours when they are available.
You'll need to have you own vehicle or means of transportation to report to work at our shop in Walled Lake. And no – you won't need a vehicle to haul Segways!
We are looking to hire part time (or potentially full time) tour guides. When applying, please let us know what your weekly availability is!
Previous experience with Segways is not a requirement. You will be fully trained inside and out! If you've never ridden a Segway before don't worry, after a day you'll be totally comfortable!
As a tour guide, you will be working with very limited supervision and once trained you will be leading tour groups on your own.
You may be asked to handle the collection of payments and cash from customers. You may also be asked to assist in our showroom for tour customers interested in purchasing products.
Tour guides must be at least 18 and authorized to work in the United States.
Starting compensation is $11/hr