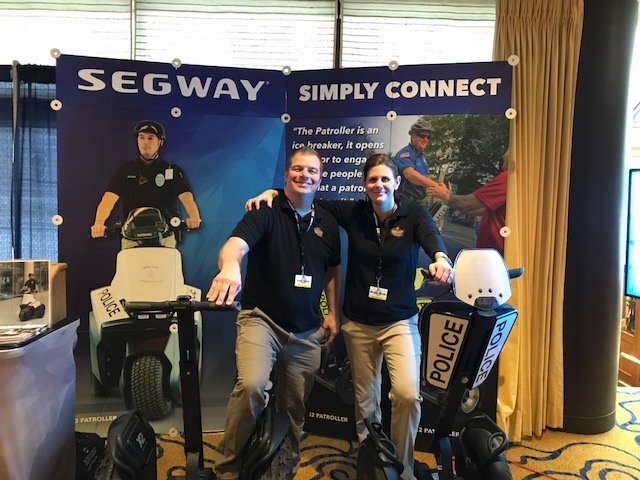 Since 2010, we have been perfecting the art of providing fun, safe, memorable Segway Personal Transporter (PT) experiences.
From our early days of offering tours and rentals, we learned how to provide great service and Segway Experiences to our customers.
Today as an Authorized Dealer, Great Lakes Segway is committed to providing you with the same great service that we have demonstrated with our customers since day one.
Founder John Smith and his wife Megan rode Segway PTs for the first time in Northern Michigan. The Smiths instantly fell in love with the thrill and the freeing experience of riding Segway PTs. Within 15 minutes of renting, John had a light-bulb moment. He thought, "we could start a Segway PT Tour and Rental business in Plymouth, Michigan." Three weeks later, John and Megan opened their first Segway PT Tour and Rental business in downtown Plymouth, Michigan.
With a significant credit card investment, just two Segway PT I2s, a partnership with a local retailer and a few hopes and prayers, the Smith Team opened Seg Adventures, LLC. The business name and the tagline "that's how we roll," were meant to convey the fun associated with Segway PT tours.
After moving to a couple of different locations around Plymouth, John began to discover that he would like to expand his Segway PT Tour and Rental business to other cities and towns. During time off for the birth of their first child, John was able to research, explore and take the required steps to launch the next PT Tour location.
John and his wife opened a second location in the historic town of Franklin, TN, neighboring town of Nashville. John worked with several partners and managers to keep the concept growing and thriving from a distance of 500 miles.
After offering the Segway PT experience to thousands of tourists and enthusiasts throughout Michigan and Tennessee, John was continuing to develop his passion for Segway Products. He began the process of transitioning his Segway PT Tour and Rental business to an Authorized Segway Experience Center and ultimately to an Authorized Segway Dealership.
John opened the Segway PT Dealership.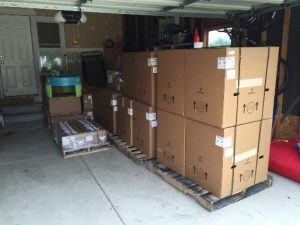 John and his trusted Service Manager, Brett traveled to Bedford, NH to attend the Dealer Training and Factory Tour. There they learned the ins and outs of Segway PT manufacturing, service repair, training and marketing best practices.
Since establishing the dealership, John has added several sales team members and contracted with his friend Brett to become his Certified Service Manager and Advisor.
John relaunched the dealership under the name Great Lakes Segway and promptly launched Greatlakessegway.com.
Delivered our first test unit for DNR at Belle Isle. This pilot program is a combined joint effort to enhance daily operations, along with using green-technology in order to keep a minimal "footprint" in our state parks.
Sold to our first international customer; a farmer who now uses his Segway to get around his large greenhouse.
Attended and participated in the Grand Rapids MACP winter session shows. As a result, we were able to make several contacts with local law enforcement agencies, which in turn, led us to doing demos for law enforcement agencies across the state of Michigan.
Presented to the DNR Green Initiative Team, proposing that Segway purchases be placed under the green initiative grant funding.
Delivered 6 units to Detroit Riverfront Conservancy. The Segways are being used to patrol along the Detroit River.
Began the expansion of our showroom and service area in Walled Lake.
Street Smart certified training and sales program and affiliate
We took 8 units to help establish tour business in Sault Ste Marie and in the process, aided with tour management and tour routes in the area.
Sold and delivered 2 units to the Port Huron Police. They now use the Segways to help patrol the border.
Delivered an off-road X2 test unit at Ludington State Park. This is in conjunction with the same test program as Belle Isle.
Purchased 62 Segways from Target Co. to refurbish and repurpose.
Grand Opening at our Walled Lake showroom!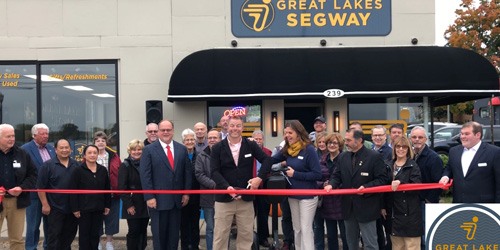 Great Lakes Segway is featured on the cover of The Oakland Press.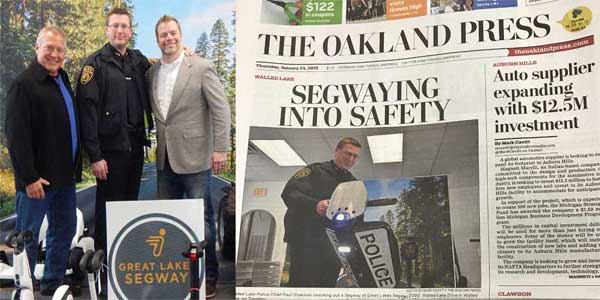 Great Lakes Segway is one of 21 businesses elected as SBA Emerging Leaders Program.
Delivered unit to the Walled Lake Police Department.
Trained and certified 2 Shelby Township police officers for their Segway program for community policing.
Trained and certified 3 WLPD police officers for their Segway program for community policing.
Owner, John Smith is elected to be a speaker at the WMLC Mobility Conference.
Whether you are an organization looking to improve efficiency, a Public Safety official with specific needs or an individual looking to enjoy the same thrill that John and his wife experienced years ago, we are here to help serve your needs.
We are here to help you. Please contact us by phone, email or complete the form below and we will assist you. Check out our Frequently Asked Questions for additional information.
Please call 248-896-2600 for ordering or additional questions, we welcome your questions or comments.