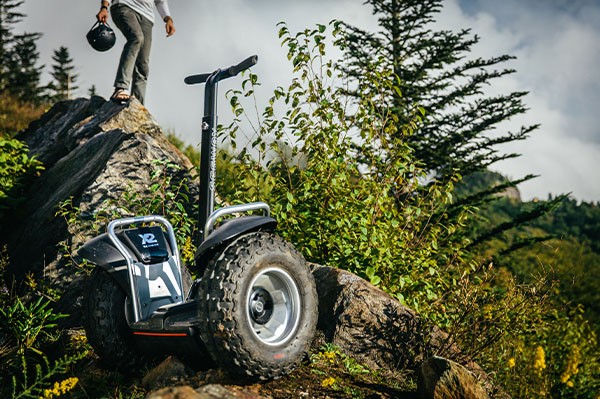 Make Your Park Operations More Efficient
The Segway PT allows you to move staff quickly through the park property and down trails efficiently. Using Segways on the job reduces the time it takes to travel to jobsites and return to park offices or maintenance buildings.
Managers can use Segways to manage staff, identify park maintenance jobs, observe park visitors for safety and security and more.
Workers can use Segways to visit jobsites, carry operational equipment (with added accessories) and transport them to do their work more efficiently.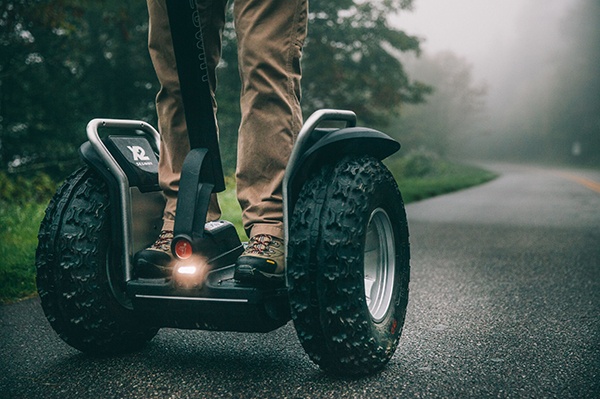 Support Your Park/Trail Green-ification (Greening) Efforts and Guidelines
Segways allow you reduce your overall carbon footprint. Studies have shown that the overall environmental impact of a Segway is less than that of a Toyota Prius. Segways can help you reach your goals for reducing the overall environmental impact. Eliminate emissions and smelly gas fumes.
Navigate Anywhere in Your Park or Trail
Segways can handle 26% grades and navigate of a variety of terrains; ranging from paved to rugged, mud trails.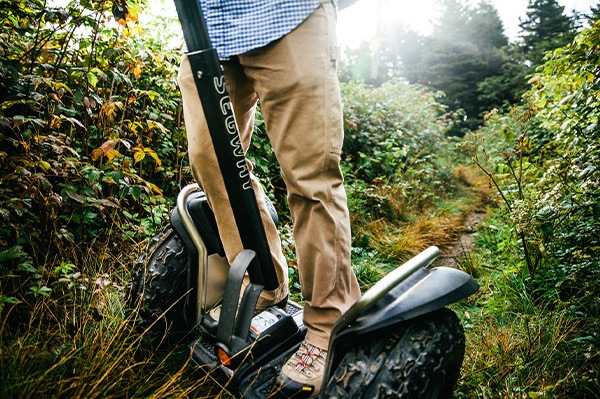 Realize Cost Savings and ROI
Segways PTs are much more affordable than vehicles. When you consider vehicle costs; monthly lease payments, maintenance costs, fuel costs, oil changes, and even time spent driving around the park or trail perimeter, the expenses add up significantly.
Alternatively, Segway PTs costs are mostly upfront and require minor maintenance. With our leasing and financing options the Segway PT can be paid off on a schedule that works for your organization. Our flexible financing plans include: 24, 36, 48 or 60 months as low as $200/month.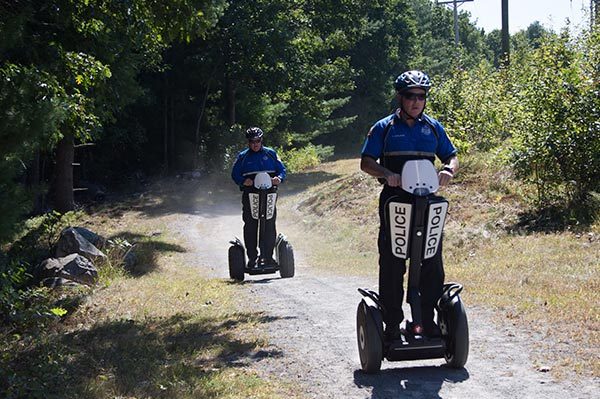 The Segway PT allows riders to move 3 times faster than walking. Your team can move across the property or in-between campsites to address campers' inquiries, deliver necessities or other items to visitors, respond to noise complaints and deal with safety concerns quickly and without fatigue. The Segway's versatility means you can travel indoors and outdoors without ever dismounting the PT. Supervisors have quick access to the front office, cabins and bathroom/shower facilities across your sprawling campground.
Revenue Generator & Added Amenities
Segway tours allow you to add new offerings and amenities at your park or trail. People from all walks of life enjoy riding Segways. They provide park and trail visitors a unique way to enjoy nature and recreate while leveraging technology. Parks and trails throughout the world are offering Segway tours.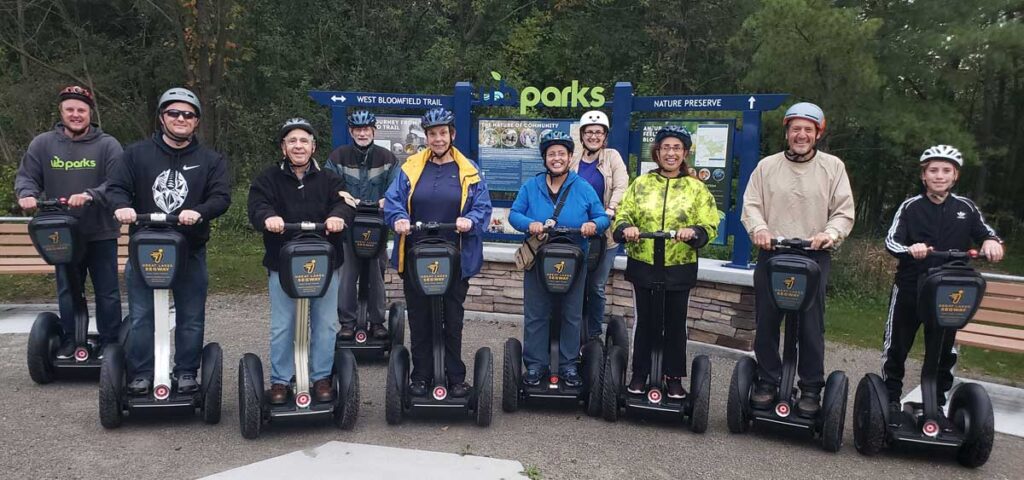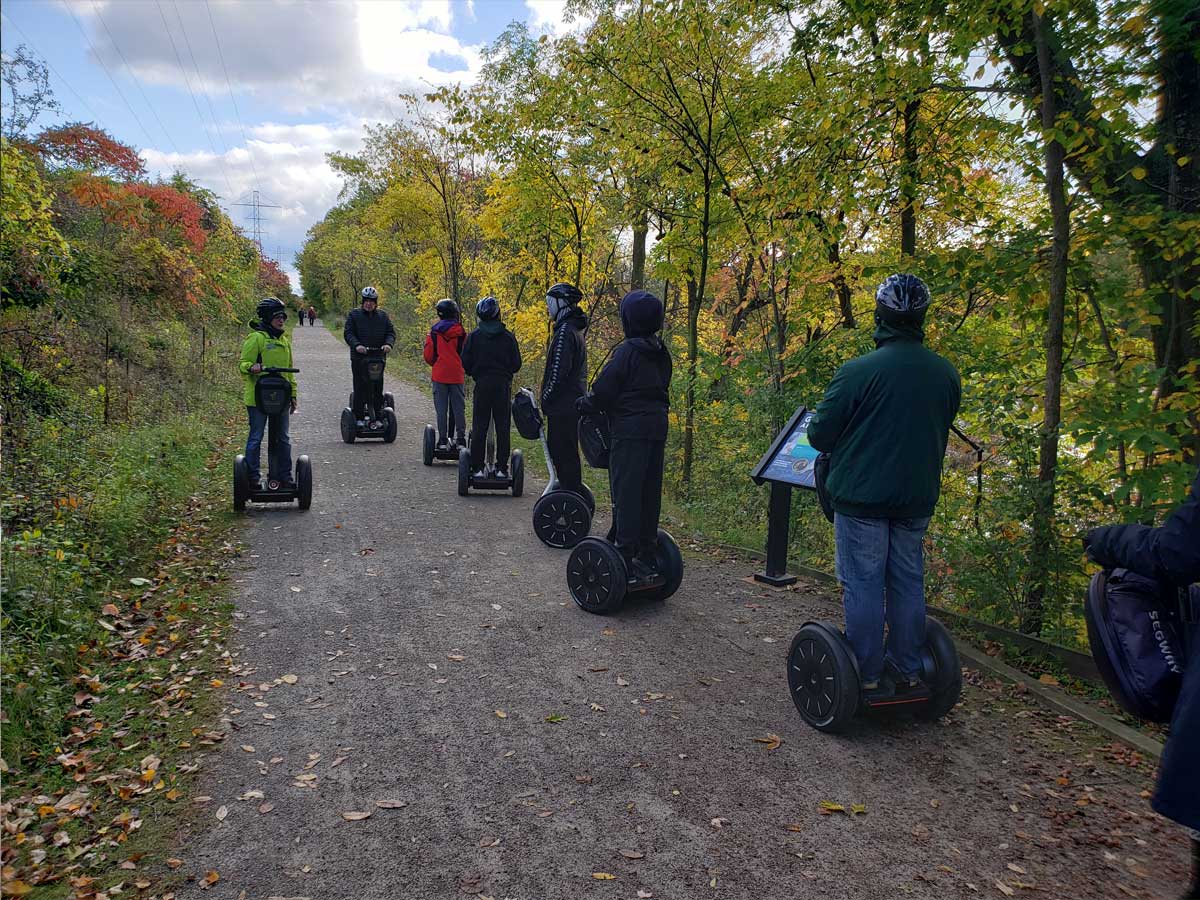 Add revenue to your bottom line by offering Segway tours and rentals within your park or trail system!
Trail Management/Operations
Staff Transportation
Trail Maintenance
Facilities
Daily operations support
Reduce the Overall Carbon Footprint
Reduce emissions
Increase energy efficiency
Use for various daily applications
Replace short-distance auto trips
New Recreation & Entertainment Options
Attract younger audiences to parks
Nature and educational tours
Increased Revenue Sources
Tours, Rentals, & Special Events
Patrolling and Policing
Public Safety and Enforcement
Event Management
Emergency and Rescue
Segway PTs can be customized with your park or trail branding & colors. All in a fully electric machine, completely clean and green.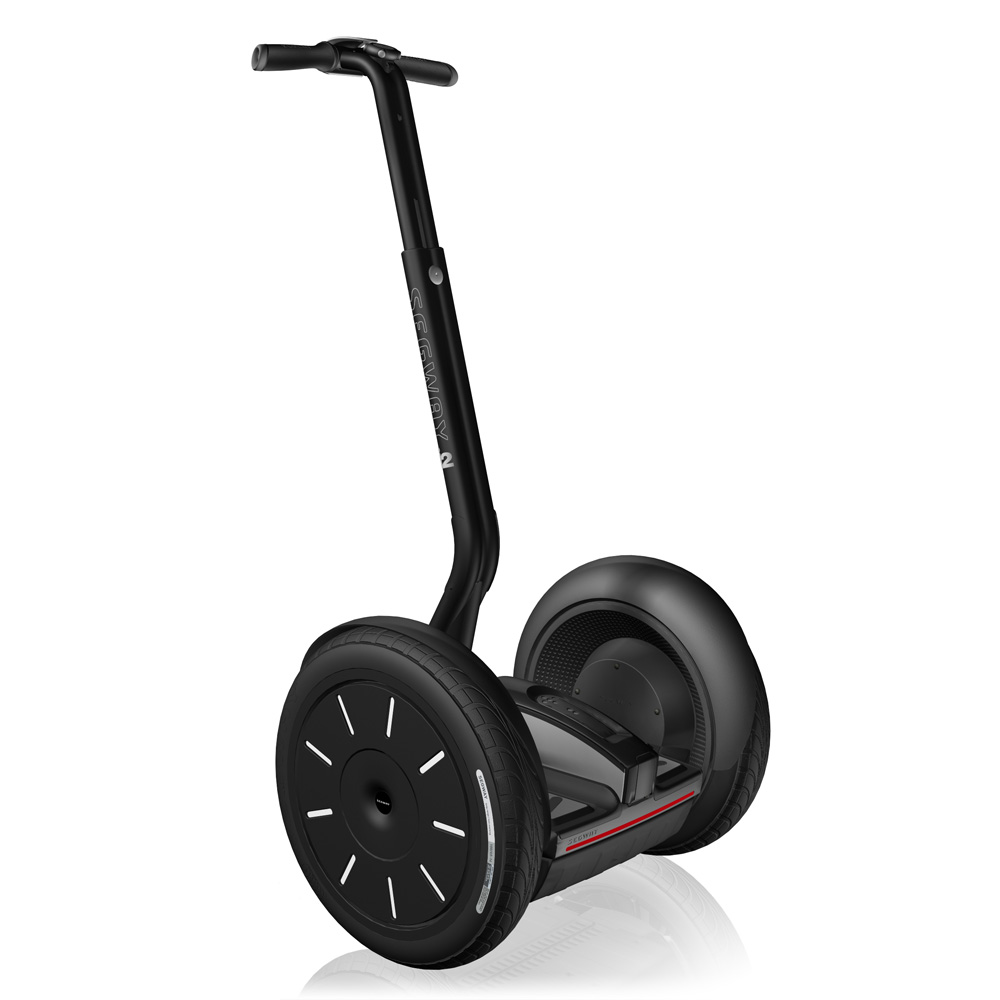 The Segway i2 SE Patroller is designed for a wide variety of applications including trail and event management, private security, emergency services, and more. It offers ultimate accessibility and range, with charging ability. Additional accessories can give you the carrying space you need.
The X2 SE, equipped with ATV-style tires, make it the perfect patrolling and emergency services tool for the outdoors, no matter the terrain. From parks to wooded areas, sand, and over rocky ground, the Segway X2 SE can manage the most rugged turf and extend your patrolling range.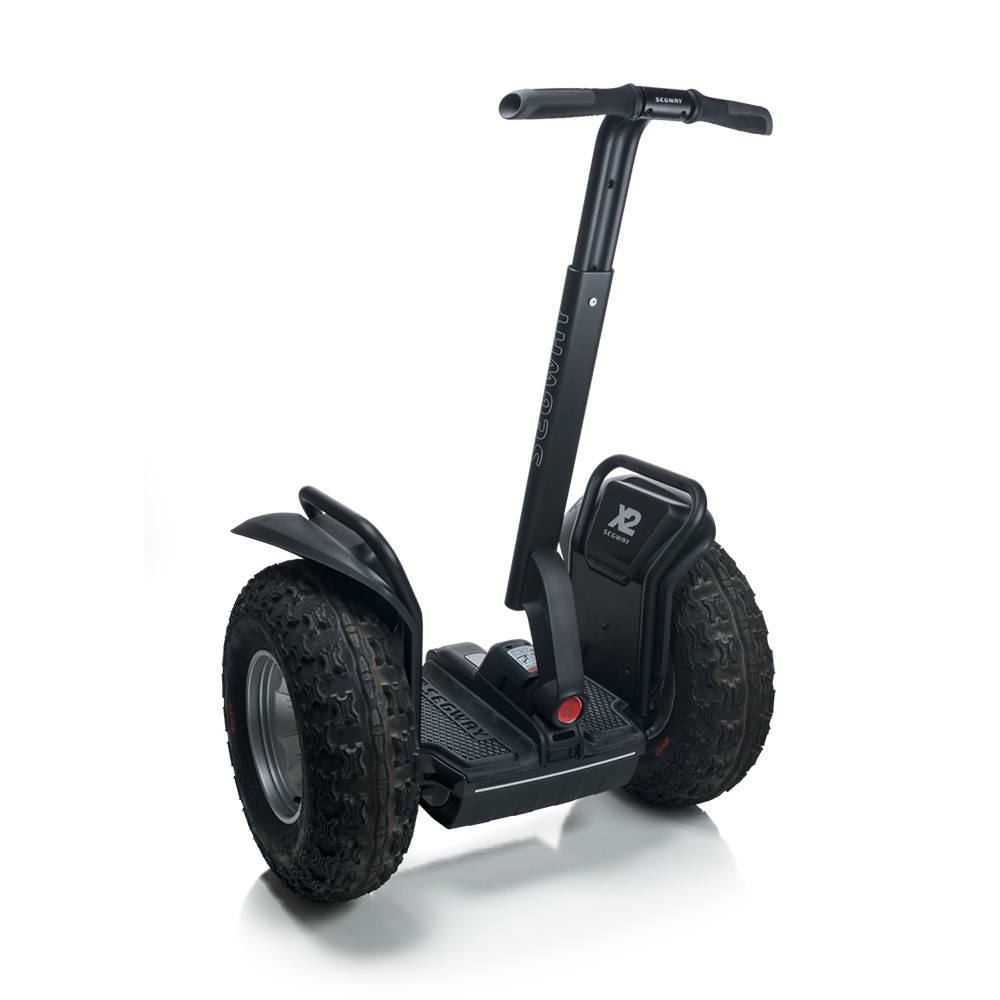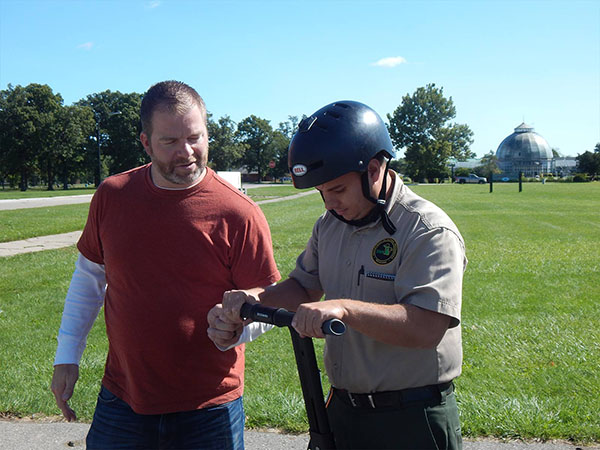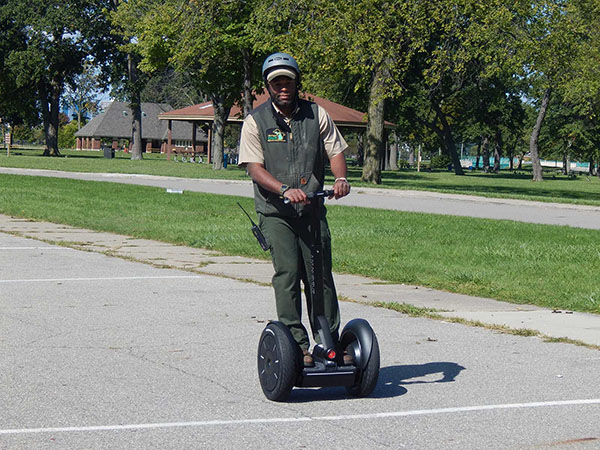 GLS Training DNR Segway PT Riders
We Provide Financing, Leasing, Grant Assistance, and More!
We can work with you to provide your Segway units through various financing and funding methods.
Schedule a Free, Live Demo & Test Drive at Your Location
Schedule a free demo and we'll bring our units to you! We'll answer all of your questions about training, funding, and how to incorporate Segway units into your operation!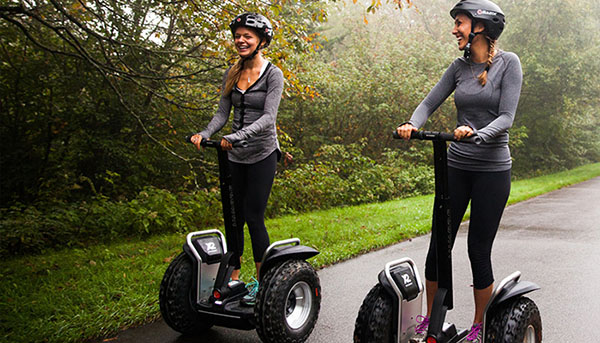 We look forward to assisting you! Please contact us by phone, email or complete the quote form!