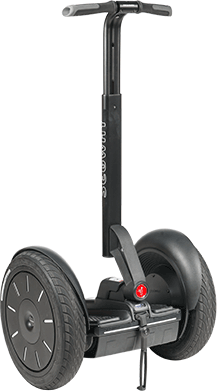 Segway i2 SE Personal Transporter
The Segway I2 SE integrates function, style, and fun. It travels seamlessly indoors and outdoors. Commute to work more efficiently. Enjoy road and camping trips after parking the RV and tour around your local community and trails.
Can travel through standard interior doorways
Ideal for use on sidewalks and other paved surfaces
Included lithium batteries provide range of up to 24 miles
Charges via any standard wall outlet
Easy to remove handlebar allows you to transport anywhere
Specs at a Glance
Weight: 105 lbs. (47.7 kg)
Footprint: 19" x 25" (48 cm x 63 cm)
Top speed: 12.5 mph (20 km/h)
Range*: 24 mi (38 km)
Carrying capacity: 280 lbs. (127 kg)
*Range depends on terrain, payload and riding style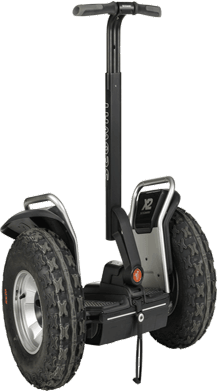 Segway x2 SE Personal Transporter
The Segway X2 SE is ideal for exploring less traveled trails and takes recreation to the next level. It easily negotiates rugged terrain with its deep (ATV style) treaded tires, wider track, and higher ground clearance. In the woods, through the sand, and over rocky ground, the Segway X2 SE can manage the most rugged turf.
Ideal for off-pavement environments including sand
Deep tread, ATV-style tires (Turf tire option available)
Included lithium batteries provide range of up to 12 miles
Charges via any standard wall outlet
Easy to remove handlebar allows you to transport to remote locations
Specs at a Glance
Weight: 120 lbs. (55 kg)
Footprint: 26.5" x 33" (67 cm x 84 cm)
Top speed: 12.5 mph (20 km/h)
Range*: 12 mi (19 km)
Carrying capacity: 280 lbs. (127 kg)
*Range depends on terrain, payload and riding style